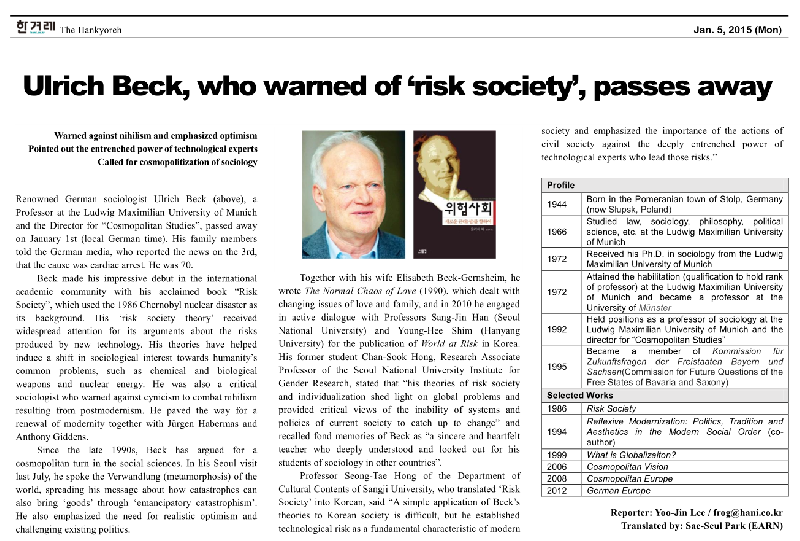 Ulrich Beck, who warned of 'risk society', passes away

The Hankyoreh | January 5, 2015


- Warned against nihilism and emphasized optimism
- Pointed out the entrenched power of technological experts
- Called for cosmopolitization of sociology
Renowned German sociologist Ulrich Beck (above), a Professor at the Ludwig Maximilian University of Munich and the Director for "Cosmopolitan Studies", passed away on January 1st (local German time). His family members told the German media, who reported the news on the 3rd, that the cause was cardiac arrest. He was 70.
Beck made his impressive debut in the international academic community with his acclaimed book "Risk Society", which used the 1986 Chernobyl nuclear disaster as its background. His 'risk society theory' received widespread attention for its arguments about the risks produced by new technology. His theories have helped induce a shift in sociological interest towards humanity's common problems, such as chemical and biological weapons and nuclear energy. He was also a critical sociologist who warned against cynicism to combat nihilism resulting from postmodernism. He paved the way for a renewal of modernity together with Jurgen Habermas and Anthony Giddens.
Since the late 1990s, Beck has argued for a cosmopolitan turn in the social sciences. In his Seoul visit last July, he spoke the Verwandlung (metamorphosis) of the world, spreading his message about how catastrophes can also bring 'goods' through 'emancipatory catastrophism'. He also emphasized the need for realistic optimism and challenging existing politics.
Together with his wife Elisabeth Beck-Gernsheim, he wrote The Normal Chaos of Love (1990), which dealt with changing issues of love and family, and in 2010 he engaged in active dialogue with Professors Sang-Jin Han (Seoul National University) and Young-Hee Shim (Hanyang University) for the publication of World at Risk in Korea. His former student Chan-Sook Hong, Research Associate Professor of the Seoul National University Institute for Gender Research, stated that "his theories of risk society and individualization shed light on global problems and provided critical views of the inability of systems and policies of current society to catch up to change" and recalled fond memories of Beck as "a sincere and heartfelt teacher who deeply understood and looked out for his students of sociology in other countries".
Professor Seong-Tae Hong of the Department of Cultural Contents of Sangji University, who translated 'Risk Society' into Korean, said "A simple application of Beck's theories to Korean society is difficult, but he established technological risk as a fundamental characteristic of modern society and emphasized the importance of the actions of civil society against the deeply entrenched power of technological experts who lead those risks."
Profile

1944

Born in the Pomeranian town of Stolp, Germany (now Słupsk, Poland)

1966

Studied law, sociology, philosophy, political science, etc. at the Ludwig Maximilian University of Munich

1972

Received his Ph.D. in sociology from the Ludwig Maximilian University of Munich

1972

Attained the habilitation (qualification to hold rank of professor) at the Ludwig Maximilian University of Munich and became a professor at the University of Munster

1992

Held positions as a professor of sociology at the Ludwig Maximilian University of Munich and the director for "Cosmopolitan Studies"

1995

Became a member of Kommission fur Zukunftsfragen der Freistaaten Bayern und Sachsen(Commission for Future Questions of the Free States of Bavaria and Saxony)

Selected Works

1986

Risk Society

1994

Reflexive Modernization: Politics, Tradition and Aesthetics in the Modern Social Order (co-author)

1999

What is Globalizaiton?

2006

Cosmopolitan Vision

2008

Cosmopolitan Europe

2012

German Europe
Reported by: Yoo-Jin Lee

p.2 of January 5, 2015 / The Hankyoreh (attached)
Online Archive: http://www.hani.co.kr/arti/culture/religion/672085.html (in Korean)
Translated by: Sae-Seul Park (EARN)