Impact of Banning Entry to Foreign Nationals during the COVID-19
1. Background
COVID-19 data analysis 5 series will focus on how emergency measurements during the COVID-19 influence the nationalism around the world. To illustrate, we will analyze the survey results of opinions of global citizens whether they perceive a certain policy will lead a country to nationalism or citizens' cooperation. International cooperation is occasionally disturbed by countries with strong and offensive nationalism, and sometimes, even a central government cannot control the national outrage triggered by nationalistic sentiment. Even worse, irrational nationalism would bring about racism and xenophobia, which severely undermines the free and open market around the globe. On the contrary, cooperation among citizens and governments would enhance the effectiveness of abating the crisis and it will help fast recovery from an emergency to everyday life.
The first confirmed case of the coronavirus disease in South Korea was reported on January 20th, 2020. Subsequently, there was a national petition towards the Blue House of banning entry to Chinese visitors and the same recommendation by the Korean Medical Association (KMA). Also, many politicians from opposition parties mentioned barring visitors from China. Nevertheless, the Moon administration banned only on foreign visitors who had Hubei history. In this regard, the Blue House maintained that the outright ban on Chinese nationals is not profitable, since the number of Chinese arrivals from China has recently decreased sharply. Also, it explained that the government's decision was in line with the World Health Organization (WHO)'s guidelines on communicable diseases. However, there was a continuous voice from the society that South Korea should block the entry of foreigners from China.
2. Research Topic
In the time of the COVID-19 pandemic, it is vital to sustaining social stability along with protecting the public health. Banning entry to foreign travelers undermines free trade, free movement, and foreign relations; however, it is also of equal importance for a government to protect their nationals' health and slow the transmission of communicable diseases within a country. In this section, we will scrutinize how global individuals think of entry ban policies, especially how they assess the policy's influence on a country's nationalism and civilianism during the COVID-19 crisis.
3. Questionnaire Used
Survey Question II-7: "While fighting against a global pandemic like COVID-19, a country may begin to follow either a state-centric and chauvinist path, or a democratic path based on citizen participation. In terms of banning entry of foreign nationals, what direction do you expect the following policies/trends to take?"
The answers consist of a 10-point scale, with higher scores indicating an individual believes the policy will lead citizens to democratic/participatory citizenship and lower scores demonstrating a person acknowledges the measure will result in citizens' state-centric/chauvinistic.
4. Major Outcomes
Table 1: Border Enforcement – Nationalism Index (BENI) and Border Enforcement – Civilianism Index (BECI)
by Citizens of 30 Global Cities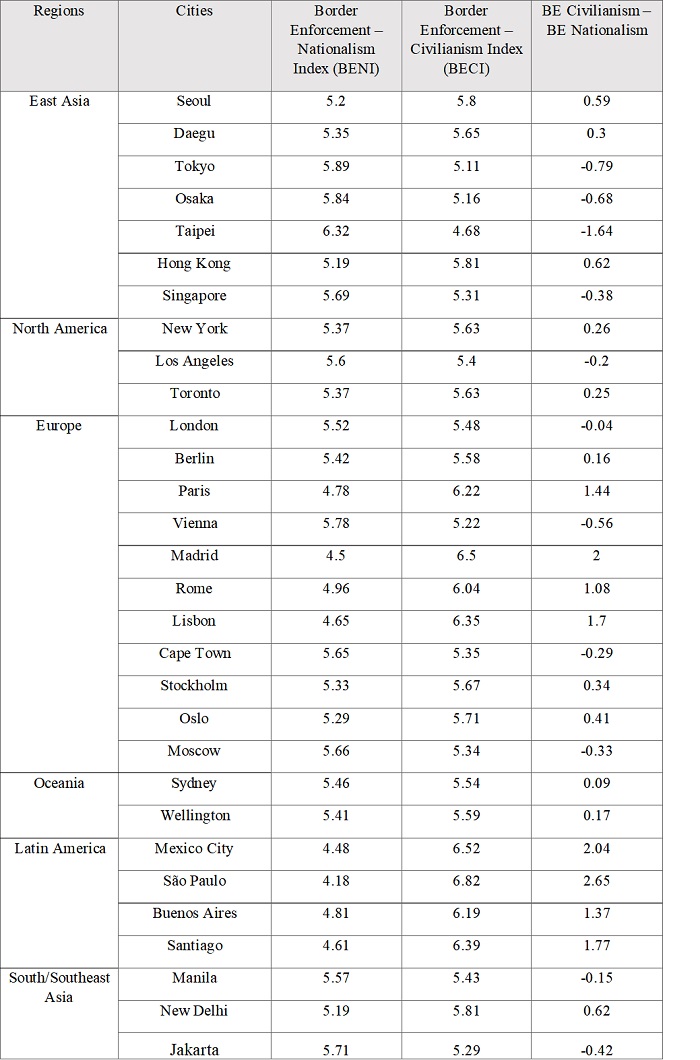 Respondents are asked to choose one score to represent their ideas on the question, and the average scores of each city indicate the Border Enforcement – Civilianism Index (BECI). It demonstrates how much do citizens of a city consider the entry ban policy will cause citizens' cooperation and participation amid the crisis, and the higher the score is, the more individuals think highly of the policy. Meanwhile, the reverse scaling was used in the Border Enforcement – Nationalism Index (BENI), which means that 11 minus BECI is the Border Enforcement – Nationalism Index (BENI). Similarly, the higher the BENI score is, the more a citizen speak ill of the policy, under the democratic and liberal principles. Finally, the numerical differences between the two scores were calculated in order to show which side a city is putting more significance. To illustrate, the higher a numerical difference is, the more citizens of the city underscore the above-mentioned policy in the course of the pandemic crisis.
Table 2: Average Border Enforcement – Civilianism Index (BECI) by Region
| | |
| --- | --- |
| Regions | Average Border Enforcement - Civilianism Index (1 – 10) |
| East Asia | 5.36 |
| Europe | 5.77 |
| Latin America | 6.49 |
| North America | 5.55 |
| Oceania | 5.57 |
| South/Southeast Asia | 5.51 |
The scores in the table are the average Border Enforcement – Civilianism Index (BECI) of the global citizens by region. To be specific, the lowest score of 5.36 was rated by East Asian citizens on average. It exhibits that people in this region least likely to deem that the entry ban on foreigners will bring about civilianism at a time of crisis. On the contrary, the highest score of 6.49 was rated by Latin American citizens, which illustrates that people here are most likely to highlight a certain policy and believe the measurement would lead to citizens' cooperation in society.
Figure 1: Bar Graph of Average Border Enforcement – Civilianism Index (BECI) by Region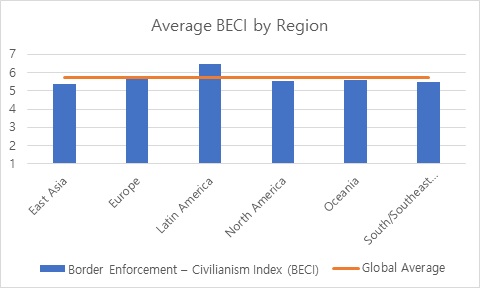 Figure 1 is the visualized graph of Table 2, and the orange line is the world average Border Enforcement – Civilianism Index (BECI). That Latin American citizens think highly of the travel bans amid the crisis is evidenced by the figure. On the other hand, Europe, North America, Oceania, South/Southeast Asia, and East Asia's average BECI scores are under the global average, implying that these regions are not accentuating the policy compared to Latin America. For further detailed analysis, let's see each city's score of BECI and BENI.
Figure 2: Line Graph of Border Enforcement – Nationalism Index (BENI) and Border Enforcement – Civilianism Index (BECI)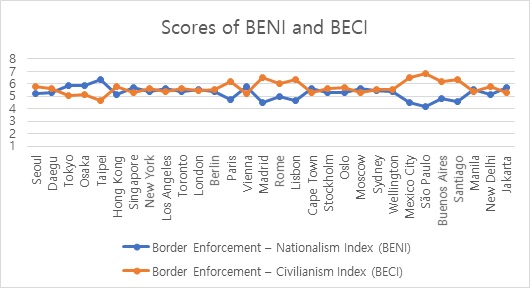 This figure is a visualized version of Table 1, and the most outstanding finding of Figure 2 is that Southern Europe and Latin American citizens, represented by Madrid, Rome, Lisbon, Mexico City, Sao Paulo, Buenos Aires, and Santiago, show a huge gap between Border Enforcement Nationalism Index and Civilianism Index. It means that citizens in these regions generally regard that entry ban on foreigners will engender civilianism in society. Besides, global citizens are holding divergent views on the policy of a travel ban.
Figure 3: Bar Graph of Numerical Difference between Border Enforcement – Civilianism Index (BECI) and Border Enforcement – Nationalism Index (BENI)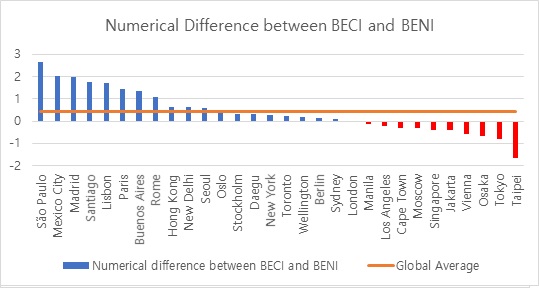 The differences between BECIs and BENIs are drawn as a bar graph, shown in Figure 3. The orange bar indicates the global average difference score (0.42). Cities with negative numerical differences are marked with red bars, indicating citizens of that city perceive that border enforcement measurement will lead to a country to state-centric and chauvinism; yet, cities with blue bars express that the policy is crucial to enhance the unity among citizens during the coronavirus. As shown in Figure 3, all Latin American cities think highly of the entry ban on foreigners, while Taipei, Tokyo, and Osaka citizens conceive that implementing on entry ban on foreigners will lead a country's citizens to nationalism.
5. Summaries and Further Tasks
a. Data analysis shows contradicting views on banning entry to foreigners during the COVID-19 crisis.
b. Latin America highly believes that the strict immigration policy will lead a country to civilianism rather than nationalism.
c. Even though the average BECI of East Asia scored the lowest, there were different scores by each city in the region. To be specific, South Korea and Hong Kong hold that the ban on foreigners would have a positive effect and lead a country to civilianism, while Japan, Taiwan, and Singapore have the opposite opinion.
d. The study is limited to descriptive research, and therefore, a more detailed explanative investigation is required to further understand the global citizens' consciousness presented above. For instance, why there are distinct reactions in East Asia? Why Latin America along with Southern European countries are having a similar opinion on the policy?